PATH
A specific path will be assigned to each learner and contains all of the topics that are required for the learner to complete. This includes compliance as well as Brand specific content.
Topics can include questions, a video, a course or a combination of all 3! Learners get reward points for passing each topic in their learning path.
Questions: Learning Path will contain level 1 questions.
These are basic recall and the goal is to

teach

vs. test!

They may not receive any information prior to answering the questions.

After answering the question, the learner will be asked to rate their confidence level.

Explanations...don't skip this as there might be important information in there! There may also be a link to a reference in Discover.
Learning Paths are assigned by choosing a role in the learner's JARVIS profile. (roles tab)
Learners can complete topics in any order they wish, by clicking VIEW ALL >
VIEW ALL to see a complete list of topics…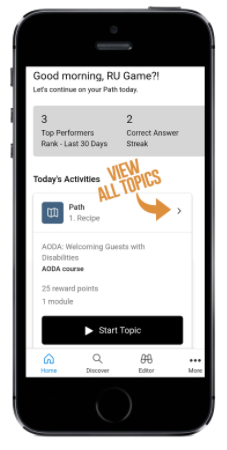 Or
"Start Topic" to launch the specific topic that is shown.


DAILY QUESTIONS
When the learner has completed all of their required topics in the learning path, they will move into Daily Questions. They will receive 3 to 5 questions. (it depends on how often they log in)
How do the questions get assigned? The platform will assign questions based on:
How they answered the questions previously

How confident they were
Daily questions include level 1 (from Learning Paths) as well as more complex level 2 and level 3 questions.
Level 2 and level 3 questions are assigned by the platform and the learner has no control over when they answer them.
Learners get reward points for answering Daily Questions, and additional points for answering them correctly.
Daily Questions ⇆ Learning Path ⇆ Daily Questions
Periodically, new topics will be added to the Learning Path, so the learner will "switch" back to their Learning Path in order to complete it.
As soon as they do, they go back to Daily Questions.



EXTRA TRAINING
Extra Training is not required and learners do not need to complete it. They don't get reward points for this training. Learners can re-visit any of their assigned topics.
Learners will receive the Training Module, if available, (option to skip the module) and a Quick Quiz (5 randomly selected questions from that topic difficulty level).They can do different level questions and any videos or modules that are included.
Topics in Extra Training will appear in the following order:
Needs Coaching

Overconfident

Underconfident

Beginner

Intermediate

Graduate

Expert
REFRESHER TRAINING
Refresher topics will appear for a learner if they fall below 50% on a topic level.
Not Started - the user has not started questions

Beginner - the user has just started answering questions

Intermediate - Answered all questions once with an average >80%

Graduated - answered at least 2 iterations of the questions with an average >80%

Expert - answered 2 iterations of questions with an average of >90% and high confidence